Don Quijote is one of the biggest discount chain store that has over 160 locations in Japan.
They have two types of shops which are a Mega type and a common type.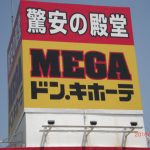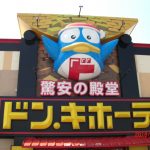 If you go there, you can purchase household goods, clothes, shoes, snaks and home electric appliances and also Mega type stores sell fresh food as well.
This shop is quite popular to foreigners because they sell Japanese high-quality adult toys.
Especially, MEGA Don Quijote Shibuya Honten has a area that sells souvenirs for foreign travellers.
Unfortunately,quite difficult to connect Don Quijote english website.
URL:Don Quijote
■They have four MEGA stores in Tokyo 23-ku(center of Tokyo).
●Shop name: MEGA Don Quijote Shibuya Honten
・Address:28-6 Udagawa-cho,Shibuya-ku,Tokyo
・Station: Shibuya Station
Shibuya Station – Wikipedia
・How to get to Shibuya Station
Route Search – Japan Transit Planner | Norikae Annai
・Telephone:03-5428-4086
・Business Hours:Open 24 Hours
・Holiday: none
・Payment:available credit cards
・Map:
●Shop name: MEGA Don Quijote Omori Sanno
・Address:3-6-3 Sanno,Ota-Ku,Tokyo
・Station: Omori Station
Ōmori Station (Tokyo) – Wikipedia
・How to get to Omori Station
Route Search – Japan Transit Planner | Norikae Annai
・Telephone:03-3773-1721
・Business Hours:8:00~ 3:00
・Holiday: none
・Payment:available credit cards
・Map:
●Shop name: MEGA Don Quijote Kannana umejima
・Address:5-5-14 Chuou honchou,Adachi-ku,Tokyo
・Station: Umejima Station
Umejima Station – Wikipedia
・How to get to Umejima Station
Route Search – Japan Transit Planner | Norikae Annai
・Telephone:03-5845-5655
・Business Hours:9:00~ 5:00
・Holiday: none
・Payment:available credit cards
・Map:
●Shop name: MEGA Don Quijote Itabashi Shimura
・Address:3-32-16 Shimura,Itabashi-ku,Tokyo
・Station: Shimura-sanchome Station
Shimura-sanchome Station – Wikipedia
・How to get to Shimura-sanchome Station
Route Search – Japan Transit Planner | Norikae Annai
・Telephone:03-5916-6211
・Business Hours:9:00~ 5:00
・Holiday: none
・Payment:available credit cards
・Map:
■ Around Narita airport
●Shop name: MEGA Don Quijote Narita(This shop quite closes to Narita airport.)
Address:82 Wingtsuchiya,Narita-city,Chiba
・Station: Narita Station
Narita Station – Wikipedia
・How to get to Narita Station
Route Search – Japan Transit Planner | Norikae Annai
・Telephone:0476-20-3711
・Business Hours:Open 24 Hours
・Holiday: none
・Payment:available credit cards
・Map:
■ Around Yokohama 
●Shop name: MEGA Don Quijote Shin-Yokohama(This shop quite closes to Shin-Yokohama station.)
・Address:529-5 Mamedo-cho, Kouhoku-ku,Yokohama-city,Kanagawa
・Station: Shin-Yokohama_Station
Shin-Yokohama Station – Wikipedia
・How to get to Shin-Yokohama_Station
Route Search – Japan Transit Planner | Norikae Annai
・Telephone:045-533-5611
・Business Hours:9:00~ 5:00
・Holiday: none
・Payment:available credit cards
Map: